Architecture Is Frozen Music
Do you find that certain songs or pieces of music bring back memories from the past?
Do you find that when you are driving in certain neighbourhoods, landmarks connect you to your inner self, your thoughts and memories that pull you back?
There is a neighbourhood in Vancouver that always brings back unwelcome memories for me and I avoid it as much as I can. The landscaping, the houses, the roads trigger issues I no longer want to remember.
We all have things in our past that are no fun when they come up. Miranda Lambert wrote the song "The House that Built Me", a song that deals with memories of a childhood home and that brings her back to her authentic self. What memories does your childhood home bring up for you?
When I listen to songs by Leonard Cohen, I am reminded of my twenties when he was a favourite poet and singer for me. I always remember the places I heard the songs first or whom I was with.
The German poet Goethe once said that "music is liquid architecture and architecture is frozen music". The 'building' of a piece of music is like architecture; it is fluid in composition, playing and listening. Don't you think?
Conversely, 'composing' architecture is like frozen music. There is music in architecture when looking carefully. The building blocks all fit together into one piece, albeit frozen not fluid even though a building or structure can have many fluid lines. It is stationary.
When I came across an article about an old cement factory purchased and renovated by the Spanish architect Ricardo Bofill for his family, I could only see architectural music. Bofill purchased the factory back in 1973 and over four decades he renovated this old structure into a highly unusual family home. It is located near Barcelona.
The original structure of the cement factory has been exquisitely preserved and enhanced. It was adjusted ever so delicately and lovingly into a stunning environment much like Max Richter's recomposition of Vivaldi's Four Seasons.
You can hear and see the music in the softening of the brutal concrete by the lush greenery, in the voluminous spaces brought to human scale by introducing long flowing window treatments, by the lighter tones of the furniture and floor coverings.
There is music and poetry in the placement of the grand piano against the enormous height of one of the cylinders. Imagine the sounds…
And in the sparsely laid out work area where the dark furniture plays off the white stuccoed walls and where the roundness of the space coordinates with the arched window and the round contours of the chairs and the curvature of the worktop legs. As in music there is repetition, there is flow, there are accents. This home is a composition of carefully selected elements all amazing in their own right, but together form a piece of art.
This old cement factory was definitely frozen in time and will remain frozen as a structure. Yet at the same time it is brought back to life to tell a story. It is like musical architecture. Like an architectural opera.
I see poetic music in an old chapel in Kelowna, BC (Canada) which I would very much like to make my own and lovingly renovate to be a cozy, welcoming home. However, the chapel is still in use for religious purposes. So this is a pipe dream for me. But, every time I see a church I long to make it into a home.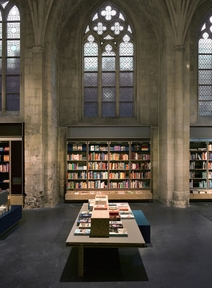 Dominican church renovated by
Merx + Girod
Religion is falling out of favour in my home country. There are so many religious buildings that are either closed and falling in disrepair or renovated for other purposes. There is an old Dominican church in Maastricht, The Netherlands, the area I grew up in. This ancient church was built in the 1300s and is no longer in use as a religious building. It has been sensitively renovated into a contemporary bookstore.
The structure has remained intact, cleaned up, repaired and the 750 sq.ft. floor space converted into a book browsing area, a reading lounge and a coffee shop. By using the vertical expanse of the building the architects Merx + Girod added a mezzanine for book displays and shelving. As such the 750 sq.ft. was increased to 1200 sq.ft. of retail space.
How would you feel if you were browsing in a book store like this? Would you feel awe? Would you feel small as a human in the presence of such a huge structure? Would you feel amazement over what people accomplished so many centuries ago. Would you feel grateful that such a beautiful structure has been preserved for new generations to enjoy? How would you feel when sitting in the reading area with a cup of tea or coffee? I imagine I would hear angels singing. It would make my heart soar.
When I see what can be done with old buildings I am optimistic about the future. I like the thought that we can find new uses for old structures. As we keep moving into a more technological society I find solace in the thought that we can keep part of our past and adapt it to our future.
On a less grandiose scale, many old homes are being renovated these days. Kitchen and bathrooms are updated. Frequently, additions to such homes make the livable spaces much larger to accommodate our changing lifestyles. In old London, England, there are quite a number of such examples.
Narrow row houses with small back yards are transformed into light-filled contemporary spaces. Architect Neil Dusheiko, London (England) has completed many projects on such a small scale. The photo shows how the architect transformed a narrow path alongside the house into a light filled corridor by enclosing this area into the house. The back roof line was changed by extending the third floor with an enclosure to add an additional room.
With summer around the corner, with nature springing back to life, with the delicate greenery on the trees and the first flowers, I often think of how the old becomes new again. It gives me comfort.
So I have been asking myself how we can reuse old things by giving them a new purpose rather than throwing them away or by trashing them. How can we preserve what we have and give it new life?
Look out for my next article on how new uses can be found for old furniture with techniques to perform some miracles.